From admiring jaw-dropping views at lookout points and castles, to riding the historic tram 28, there's no shortage of cool things to do in Lisbon – especially if it's your first time. But for those looking for an alternative travel experience, here's a curated guide to where to eat, shop, and play in Lisbon – whether you're staying for one week like I did, visiting for the weekend, or simply passing through.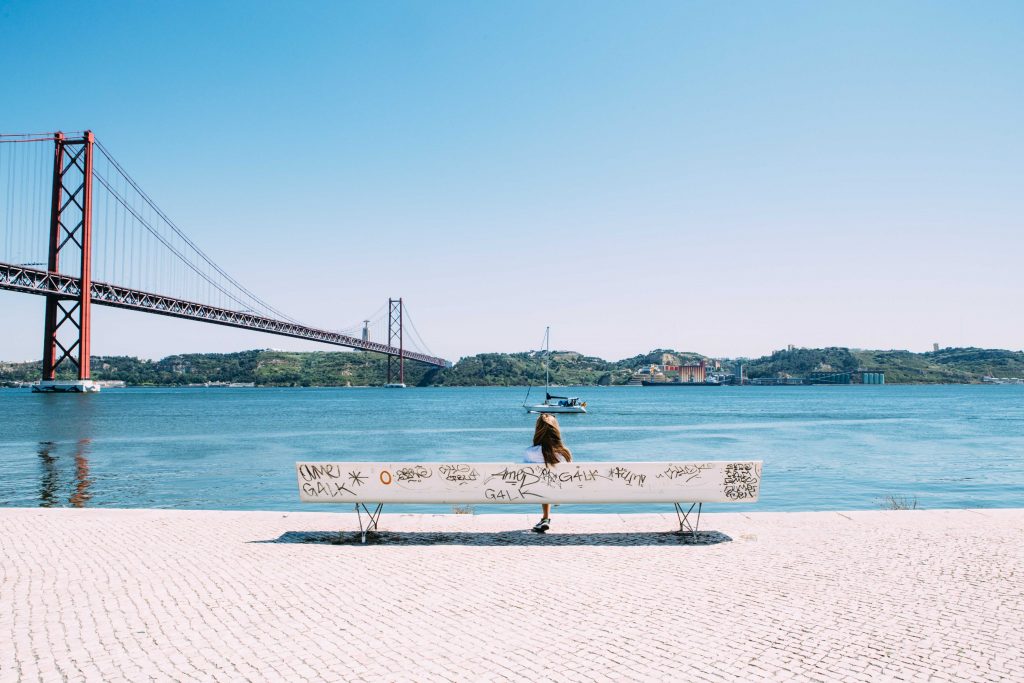 Where to eat
If you've done your homework, you know you should eat your natas in Belém, get your piri-piri chicken at Bom Jardim, indulge in the seafood at Ramiro, and if your budget allows, try and snag a table at Belcanto. Made up of a mix of local faves and new nooks worth discovering, here are several other places to seek out:
Start the day at Pois Café, a laid-back spot that's perfect for coffee with your laptop in tow, brunch, or a beer later on. On my visit, I enjoyed the Pois Brunch, composed of a mixed ham and cheese plate, a bread basket with butter and jam, along with a fresh glass of orange juice, and a much-needed coffee. For a healthier option, try the Brunch Vital.
Brought to you by the Portuguese chapter of Time Out Magazine, Time Out Market Lisboa (Mercado da Ribeira) is a food lover's paradise. This market holds 35 kiosks made up of both typical produce stands and a large food hall. Selling regional produce like cheese, sardines, and natas, it's also home to several restaurants from renowned chefs. On both of my visits, I indulged in a charcuterie and cheese board with a glass of red wine from Manteigaria Da Silva, followed by mouth-watering prego steak sandwiches from O Prego da Peixaria. Don't forget to pick up some wine from their in-house shop, the Garrafeira Nacional.
Along with Belcanto, chef José Avillez has opened a host of other establishments, my favourite being Mini Bar. This restaurant features bite size menu items, some of which hail from the Michelin-starred restaurant (Belcanto). Inspired by Tickets Bar in Barcelona, their menu is set up into theatre "acts." If you want a complete experience, which I recommend, go for one of their tasting menus. I chose the Epic Menu at €55, where each of the 10 courses (which came with special instructions on how to consume each one) was a flavourful surprise for the senses.
Here's everything I ate: a green apple and spearmint margarita, Belcanto's take on a Caipirinha, El Bulli olives that explode in your mouth, the infamous foie gras "Ferrero Rocher" (again, from Belcanto), Algarve prawns in the form of a ceviche, "roasted chicken" with avocado cream, cottage cheese, piri-piri and lemon, a tuna tartare temaki cone with spicy soy and a beef tartare cone with a mustard emulsion, LT egg with parmesan, pan seared scallops with Thai flavours, the JA burger with PDO beef, plus, a fresh lime sorbet and a selection of homemade marshmallows for dessert. I was in a giddy food coma by the end.
One of the best meat restaurants in Lisbon is Atalho Real. Housed in an antique palace in Príncipe Real, I found this place thanks to a local restaurateur and was able to snag a last-minute table without a reservation. Upon entering, its grand decor impresses – but don't be intimidated – this resto remains an unpretentious family affair with warm service and hearty portions. Once seated, choose your cut of meat and your two side dishes. I chose the priciest cut on the list, chuletón, a 21-day dry-aged rib-eye with a side of potato wedges and coleslaw for only €20! After your meal, enjoy a drink in their gorgeous outdoor garden or head to the Gin Lovers Bar, one floor up.
If you travel in search of the best steak, Sala de Corte is another one of the city's top contenders. Their menu ranges from different kinds of cuts of beef accompanied by your choice of sauce, several side dishes, and other goodies like beef tartare and a burger. Be sure to try one of their delicious cocktails if you find yourself needing to wait for a table (they don't take reservations).
For gelato, head to Italian-inspired, Gelateria Nannarella. With flavours like Gianduia, Limone, and Pistacchio, they do Italian ice cream well.

Where to shop
Most guides will tell you to come home with cork, tiles, and sardines. But why not visit a neighbourhood shop or one that stands out for one of a kind mementos?
My go-to shopping street in Lisbon quickly became Rua Dom Pedro V, just north of Barrio Alto. Here is where I found: Del <3 Rio (BYOUBB), a small boutique that houses a curated selection of fashionable finds by local designer, Patrícia Gouveia, New Black Urban Concept Store, a gem for fashionistas that sells pieces from coveted brands like Karl Lagerfeld, Alexander McQueen, Rag & Bone, Zadig & Voltaire, Vivienne Westwood, and Dsquared2, as well as Amazing Store, an environmentally-friendly shop that proposes items made from sustainable wood from the likes of WeWOOD, Proof, and LSTN.
Barrio Alto also has some hip spots, like Pop Cereal Café, a quirky concept shop and cafe. Go for the punchy tees, stay to sample over 100 types of cereal combinations! Then, head to El Dorado, where vintage clothes, accessories, and vinyls are abundant – this treasure trove definitely stays true to its name.

Where to play
Lisbon's party scene is well and alive – you just need to spend the weekend walking through Barrio Alto to be convinced. Here are some cool places to discover:
Alfama is lovely, but it's hard to unwind in a non-touristy place. Enter Allfama. Here is where you can enjoy a well-crafted cocktail accompanied by small bites in a stylish setting. Take a seat indoors or on their outdoor terrace and enjoy the fado from next door.
This sixth-floor rooftop terrace is located on top of a parking lot – and it's tough to locate. Yes, you need to walk into an operating indoor parking lot and take the elevator all the way up, followed by a small flight of stairs. After wondering if you're at the right address, lo and behold, you'll find Park, a bustling rooftop bar swarming with locals sipping on drinks and taking in the spectacular view.
Although I don't recommend eating at Pharmacia, I can't deny that this converted pharmacy is a spectacular spot for a cocktail thanks to its lawn terrace – so I'm adding it anyway. As for the food, dining here definitely fell flat for me. I loved the quirky pharmacy interior decor, but I fail to see where a chef comes into play, from price, to presentation, to taste.
Doubling as an art gallery and a concert hall, Galeria Zé dos Bois also had a hidden rooftop terrace that overlooks Barrio Alto. Once you find it, you'll realize that you've come across a gem! But unless there's an event or a concert, it open at 10pm.
Bonus: What to see
If you're staying in – or passing through – Belém, be sure to visit the Berardo Collection Museum, the modern and contemporary art museum in Lisbon. Located in the heart of the popular district, here is where you'll find an impressive collection made up of art by Dalí, Warhol, Pollock, Koons, Miró, Magritte, Mondrian, Lichtenstein, Duchamp, Sherman, Picasso, and much, much more.
Have you been to Lisbon? Have any coveted spots to share? Let me know in the comments below!