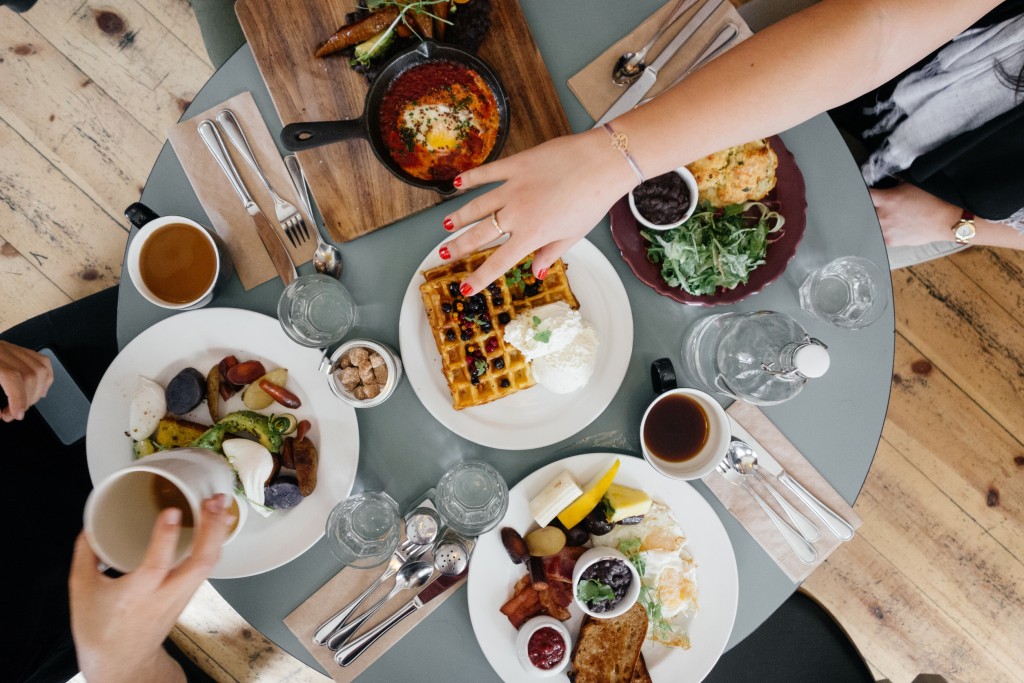 Brunch is my favourite meal of the day – I eagerly wait for the weekend to arrive just so I can sample new spots or return to my old favourites. Basically, if "brunching" were a sport, I'd win a gold medal. Whether I'm in the mood for a healthy meal to boost me for the weekend or a good old hangover remedy after a night out, Paris doesn't disappoint. The French have eagerly adopted North American brunch culture over the years and today, they consist of way more than an oeuf à la coque and des viennoiseries. Want to know where to find the best brunch spots in Paris? Here's my list of the top eateries on the right bank.
This list will continue to grow as I sample more of the most coveted brunch spots in Paris – so I'll be adding them as I go! If you have any comments or know a place I absolutely need to visit, leave them in the comments below. Want all of these coveted addresses? Click here to skip to the mobile-friendly map!
Holybelly
Nestled on Lucien Sampaix street, near the Canal Saint-Martin, Holybelly is where you brunch when you're craving your favourite North American or Australian-style breakfast fare. Inspired by the kind of cafe you'd find in Melbourne, Holybelly is the product of dynamic duo, Sarah Mouchot and Nico Alary. With service that is always stellar and food that never disappoints, it's no wonder their motto is "It's Good Because We Care." As you may have guessed, this success has made them quite popular, meaning you might have to wait a little before snagging a seat (they don't take reservations). Bonus: Their coffee comes from la Brûlerie de Belleville, so you know your meal is starting off right even before your fork touches the plate.
Coveted brunch dish: Savory Stack (pancakes topped with a fried egg, bacon, housemade Bourbon butter, and maple syrup) or Huevos Rancheros (pictured – not always on the menu!).
Le Pain Quotidien
Originally from Brussels, with plenty of locations all around Paris and beyond, you can never go wrong with brunch at Le Pain Quotidien – especially since they serve it all day, every day (I'm guilty of eating brunch for dinner here!). Brunch combos are all 100% organic and unique, whether they consist of a soft-boiled egg with French cheese and ham or a vegan option with hummus, grilled veggies, and a quinoa taboulé. What's more, their dishes are plentiful so you're guaranteed to never leave hungry.
Coveted brunch dish: Nordic Brunch (smoked salmon, ricotta, avocado mash, eggplant caviar, mesclun salad, seasonal fruit salad, pain perdu, bread basket with jams and spreads, as well as your choice of juice and hot beverage).
Brasserie Barbès
You may already know Brasserie Barbès from having dined or partied a little too hard here, but did you know that they recently started serving weekend brunch? This news definitely made Paris' 18ème casuals hangover happy! Located in the heart of the Barbès neighbourhood (right outside of the metro), the four-floor restaurant and bar is even better now that they've added brunch into the mix. With two excellent menu choices to choose from, grab a seat on their terrace and indulge in your post-party meal.
Coveted brunch dish: Brunch combo (one egg benedict, bacon (or smoked salmon), pastrami (or tuna) sandwich, potatoes, vegetable chips, and baby spinach salad. This is followed by pancakes topped with bananas, chocolate, and whipped cream).
Buvette Gastrothèque
I've already covered how hip this place is among the SoPi crowd and how weekend brunch is the star here, so it's no wonder they made the list. Spearheaded by American chef Jody Williams, you'll rub elbows with English-speaking tourists that crave an off the beaten path travel experience and locals that call South Pigalle home (as an expat living in the 9th arrondissement, I feel like I fall into both categories). With an initial location in NYC's West Village, this French wine bar decided to set up shop in its motherland in 2013. Buvette's weekend menu has a variety of options that will surely satisfy your brunch craving, like eggs, bacon, Croque Monsieur or Madame, waffles, oatmeal, muesli, croissants, and much more.
Coveted brunch dish: Scrambled eggs and prosciutto (or smoked salmon). I also like to end my meal with one of their Belgian waffles.
Rose Bakery
This English-style bakery and cafe will make you think you've crossed the pond for a moment as you'll hear expats speaking in English all around you. At first glance, Rose Bakery's rue des Martyrs location looks like a bobo health food store with vegetable crates out front and a selection of items for sale. Nestled in the back, though, is a bare-walled dining room feeding hungry patrons elaborate brunch dishes.
Coveted brunch dish: Eggs benedict with English bacon and spinach. I also usually order a scone on the side.
Le Bal Café
Owned by the lovely people over at Ten Belles, Le Bal Café is hidden on a tiny impasse over in the 18ème arrondissement near Montmartre. Weekend brunch is best enjoyed on their outdoor terrace overlooking a large park (which is a rare feat in Paris). The inside is also worth a peek as it houses a bookstore and an impromptu art gallery. With a British-inspired brunch menu, you'll find your classic bacon & eggs, kippers with eggs & toast, and Welsh rarebit here.
Coveted brunch dish: Their bacon & eggs dish that comes with tomatoes, toast, and a scone. You can add veal sausages or blood cake for an extra €3. I asked for a side of maple syrup because I'm Canadian!
Café des Deux Moulins
Set in the backdrop of Montmartre in true movie fashion, the Café des Deux Moulins is the Amélie cafe in the flesh. Harbouring a mix of eager tourists and nonchalant locals alike, this cafe is the perfect spot for a Croque Madame, or a coffee and a crème-brûlée à la Amélie. Brunch is always a surprise here as they change their dishes on a weekly basis. On my visit, I enjoyed: Scrambled eggs with bacon, a goat cheese-honey-bacon puff pastry, salmon and leek quiche, a salad, a bread and viennoiserie basket with jams and spreads, freshly squeezed orange juice, choice of hot beverage, and of course, a mini crème-brûlée. As you can see from my photo, brunch for two took up two tables and I had to stand up to get everything in the shot! If you're a die-hard fan of the film, you definitely need to visit the washroom as they have a collection of Amélie Poulain memorabilia.
Coveted brunch dish: Check their Facebook page for the weekly weekend brunch menu.
Frenchie To Go
Little sister establishment of Frenchie restaurant just next door, Frenchie To Go is exactly what it sounds like – a daytime joint where you can take your breakfast or lunch to go. On weekends, patrons stay a little longer to enjoy one of their breakfast items that range from egg sandwiches with English bacon to eggs benedict. Well-positioned on rue du Nil steps away from rue Montorgueil, drop by for a pick-me-up before hitting the 2nd arrondissement's shops.
Coveted brunch dish: Breakfast sandwich with egg, cheddar cheese, and smoked bacon.

Le Café Marlette
Brought to us by sisters Margot & Scarlette (get it – Marlette?), Le Café Marlette has been perpetually full since transitioning from a cake mix retail seller to a cafe in 2014. With organic, in-house dishes that don't skimp on quality or taste, you'll see students on laptops, friends meeting for coffee, and serial brunchers ready to take on their classic French dishes on the weekend. With a prime location on la rue des Martyrs (as well as two brand new locations on rue du Faubourg-Poissonnière and in the BHV Marais), snag a seat on the terrace to people watch, as this is one of the prettiest streets in Paris.
Coveted brunch dish: Le Marlette (a soft-boiled egg, ham, cheese, seasonal salad, granola fromage blanc, your choice of dessert, bread basket with jams and spreads, as well as your choice of juice and hot beverage).
Chez Casimir
Brunch here is quite a change from what you may usually be used to, as Chez Casimir specializes in a Traou Mad brunch (Breton translation: "good things!"). For a set price of €28, you're served several dishes to your table (they change each week, but they're usually composed of a soup, an egg dish, and a meat or seafood-based plate) along with access to their unlimited savoury and sweet buffets. Basically, it's a food lover's dream. The two-tiered hot buffet includes a variety of French cheeses, along with fish, meat, and vegetable dishes typically found in the Brittany region. If you have room for dessert – I rarely do – the dessert buffet serves crepes, cakes, cookies, and fruits.
Coveted brunch dish: Le Brunch Traou Mad
Soul Kitchen
Perched atop of Montmartre near the Sacré-Coeur Basilica, simply walking to Soul Kitchen will make you feel healthy (read: steep stairs). Doubling as a cafe and health food restaurant, take a look at their blackboard near the counter for the daily specials and place your order. More importantly, be sure to get there early – once the specials are crossed off the board, they're gone! From a "Feel Good Burrito" to a "Frittata Hello Sunshine," Soul Kitchen's comforting dishes are a great way to start the day – so get them while they're still there!
Coveted brunch dish: Check their Facebook page for a photo of the day's menu. All main dishes are served with a salad and choice of dessert.
Café Pinson
If you already head to Café Pinson for coffee and cake, you may know that the cafe serves up a wholesome, healthy weekend brunch. Inspired by California's clean eating trend, everything here is organic and vegetarian (along with plenty of vegan options). With four locations in Paris, only two of their cafes serve weekend brunch from noon to 4 pm: the locales in the Marais (3rd) and on Poissonnière (10th). What will you find on the menu? In-house meals made with locally sourced, seasonal produce.
Coveted brunch dish: Visit their website for the daily menu.
Le Bar à Bulles
How does spending your Sunday afternoon dining on a concealed terrace behind the Moulin Rouge sound? Located one floor above la Machine du Moulin Rouge nightclub, le Bar à Bulles has made this possible with its new restaurant & lounge. The outdoor terrace is a stark contrast to Paris' hustle and bustle with its calmness and greenery, which allows you to catch glimpses of the Moulin Rouge's windmill sails. Serving up brunch on Sundays only from noon to 3 pm, the menu is always changing so expect something different each time you go. Here's what I ate on my last visit: Grapefruit and avocado salad, charcuterie platter with speck and cornichons (gherkins), bread basket with butter and apricot & fig jams, oeuf cocotte (baked egg) with artichokes, potatoes, and foie gras, a cheese platter or panna cotta for dessert (I got both), along with a beverage bar with unlimited refills of coffee, tea, and fruit juice. And that's how you do brunch!
Coveted brunch dish: Sunday brunch combo – visit their website for the menu.
Hôtel Amour
Hidden just off of rue des Martyrs in South Pigalle, the cult Hôtel Amour is known for hosting a fashionable crowd and for being a neighbourhood hotspot for chic, late night drinks. Don't let their erotic photographs hanging on the wall or proximity to Pigalle's sex shops deter you – the boutique hotel makes a killer weekend brunch, served from 11 am until 4 pm. Surrounded by greenery, their secluded, outdoor terrace is the cherry on top. On my visit, they were all out of eggs benedict so I settled for the weekend brunch combo and a tea from Mariage Frères (boozy brunch lovers, their cocktail list is full of interesting concoctions). My choice quickly lifted my spirit as this copious dish left me both satisfied and full. Looks like I'll need to come back to fulfill my eggs benedict craving!
Coveted brunch dish: Brunch combo (Deviled egg salad, potato salad, sausage, greens topped with avocado, salsa (composed of quinoa, beans, asparagus, and peas), cornbread, a fruit salad, and a fresh glass of juice).
Merguez & Pastrami
Merguez & Pastrami boasts Ashkenazi and Sephardic fare inspired by owner & chef David Azoulay's upbringing. David also previously worked in a New York City deli – so you can bet he knows how to whip up a killer pastrami dish (Montrealers, it's the closest you'll get to a smoked meat sandwich in Paris). We show up at this popular hotspot in the ninth arrondissement to test out their two-week old brunch menu on a Sunday and it's packed – word of mouth travels fast in Paris. We start with a much needed latte and a glass of freshly squeezed orange juice with crushed mint in it. For our mains, we opt for the pastrami and merguez dishes. The pastrami arrives topped on a bed of thinly sliced potatoes, beet mayo, and a fresh salad. The merguez sausage is served with a side of eggplant and a salad. Both are perfectly executed. Just when I thought this brunch date couldn't get any better, out comes the pain perdu (French toast made with Challah bread) and a fromage blanc cake (not to be confused with cheesecake). While the staff is still getting the hang of serving Sunday brunch, they know how to get the energy going towards the end of their busy shift by turning up the music – they're determined to finish strong.
Coveted brunch dish: Brunch combo (Choice of shakshuka, pastrami, or merguez as a main, choice of bomboloni, fromage blanc cake, or pain perdu for dessert, as well as a glass of juice and a hot beverage).

Hardware Société
You may be familiar with this cafe's original location if you've been to Melbourne. Hailing from Australia, the fine people of Hardware Société decided to fly halfway across the globe to open a second location a stone's throw away from the Sacré-Coeur in Montmartre. Open as of just a few weeks ago on rue Lamarck, this place is already bustling so it's best to get here early – or late like I did since they serve brunch until 4:30 pm! Several elements impress me before I even order – like how welcoming the staff are, how they serve up an expertly crafted latte using Australian brew, Padre, and how they supply spreads from my favourite jam shop, La Chambre aux Confitures. While browsing the menu, my eyes go directly to their lobster eggs benedict dish. I hesitate because each menu item looks delectable, but I ultimately go with my gut and I'm glad I do. A perfect eggs benedict dish is already difficult to find in Paris, so when one is executed as well as it is here, I'm a happy camper! If you happen to have room for dessert, try their pain perdu – it's the cherry on top.
Coveted brunch dish: Lobster Benedict (lobster, citrus hollandaise foam, herbs, and two poached eggs cooked at 64 degrees topped on a black bun).

Marcel
What if I told you there was a restaurant in Paris that served weekend brunch until 7pm? With three Parisian locations (two on the right bank), I sampled their rue Montmartre location in the 1st arrondissement. Seated on their quaint outdoor terrace on a hot summer day, I begin my Sunday brunch with a much-needed cold coffee (the hot lattes are also great), followed by an eggs benedict dish. Served on an English muffin, their eggs benny is topped with bacon and hollandaise sauce – classic yet on point. But the star of the show is Marcel's irresistibly fluffy stack of pancakes. Served with a side of maple syrup (you can add chocolate spread for €1), blueberries, and a sprinkle of icing sugar, this Canadian girl was left feeling quite satisfied!
Coveted brunch dish: The pancakes.
Grand Pigalle Hotel
This place may remind you of a certain Wes Anderson film. Inspired by The Grand Budapest Hotel, the Grand Pigalle Hotel is complete with a retro-chic backdrop by coveted designer, Dorothée Meilichzon (Café Pinson, Loustic, Ballroom, and Experimental Cocktail Club in London). Adorned with a trendy SoPi crowd and an haut de gamme service, this boutique hotel doubles as a restaurant headed by chef Giovanni Passerini – and lucky for us, they serve up a generous weekend brunch! The menu begins with your choice of hot beverage and access to their copious buffet with orange juice, ham (regular and truffled), cheese, baguette, organic bread, butter, homemade spreads, yogurt, granola, fresh fruits, homemade cakes, croissants, and other viennoiseries. This is followed by a choice of one of four mains: pizzetta fritta, bruschetta, avocado toast with two eggs, or simply eggs. I opt for the avo toast served on gluten-free bread with a side of poached eggs and a latte as my hot drink. For dessert, be sure to head back to the buffet to try their homemade chocolate hazelnut cake. I initially sampled it off their dinner menu and was happy to see that it made an appearance at brunch!
Coveted brunch dish: The avocado toast.

Sunset
Located on the lively rue Ordener in the 18th arrondissement, Sunset is best enjoyed after the sun rises – for brunch, that is! With its €23 fixed brunch menu, which includes a selection of main dishes that change weekly, you can't go wrong here. I enjoyed my meal on their outdoor terrace as it was one of the last sunny weekends of autumn (their colourful interior is also worth seeing). Their brunch menu starts with a hot beverage of your choice, a glass of orange or grapefruit juice (boozy brunch is also an option!), and a selection of homemade cakes, brioches, bread, and spreads. For my main, I opted for that day's take on eggs benedict. My eggs came topped with grilled shiitake mushrooms on two homemade buns and were drizzled in a smoked bacon emulsion. Dessert was also a treat as I chose their pancakes with maple syrup and whipped cream from their sweets menu made up of three choices. And that's how you end a week!
Coveted brunch dish: Their brunch combo (comes with three courses and two beverages of choice).
Muscovado
Just a stone's throw away from Bastille on a tiny street called rue Sedaine, lies Muscovado. Opened in mid-2016 by two sisters, this eatery and cafe serves an all-day weekend brunch that includes savoury dishes, homemade sweets, and boozy concoctions (think Bloody Mary cocktails). Take a seat on their quaint terrace overlooking curious onlookers and start with a Belleville Brûlerie-sourced latte (hot or cold!). On my visit, I ordered their poached eggs on toast topped with a wild garlic hollandaise sauce and a side of asparagus and Serrano ham. I thought I had chosen the best dish – until I tried my partner's breakfast burrito! Served with a side of in-house baked beans, he added bacon, cheddar cheese, tomato, and avocado to his – perfection. We ended our meal with the gâteau du jour, a moist and flavourful carrot cake.
Coveted brunch dish: Their do-it-yourself breakfast burrito (filled with scrambled eggs and your choice of four additional toppings).
Coveted Addresses
What's your favourite Parisian brunch spot? Let me know below!